partners
Clarivate
Clarivate™ is a global leader in providing solutions to accelerate the lifecycle of innovation. Our bold mission is to help customers solve some of the world's most complex problems by providing actionable information and insights that reduce the time from new ideas to life-changing inventions in the areas of science and intellectual property. We help customers discover, protect and commercialize their inventions using our trusted subscription and technology-based solutions coupled with deep domain expertise. For more information, please visit clarivate.com.
Elsevier
Elsevier is a global information analytics business that helps scientists and clinicians to find new answers, reshape human knowledge, and tackle the most urgent human crises. For 140 years, we have partnered with the research world to curate and verify scientific knowledge. Today, we're committed to bringing that rigor to a new generation of platforms. Elsevier provides digital solutions and tools in the areas of strategic research management, R&D performance, clinical decision support, and professional education; including ScienceDirect, Scopus, SciVal, ClinicalKey and Sherpath. Elsevier publishes over 2,500 digitized journals, including The Lancet and Cell, 39,000 e-book titles and many iconic reference works, including Gray's Anatomy. Elsevier is part of RELX Group, a global provider of information and analytics for professionals and business customers across industries.
For more information go to www.elsevier.com
Digital Science
Digital Science is a technology company working to make research more efficient. We invest in, nurture and support innovative businesses and technologies that make all parts of the research process more open and effective. Our pioneering solutions include Altmetric, Figshare, ReadCube, Symplectic, Overleaf and several other tools that support different stages of the scholarly lifecycle – all designed to deliver significant benefits to researchers and the organizations that support them.
Our most recent launch, Dimensions, provides free search across over 95 million publications and roughly 970 million citations, creating a rich context with linked grants, patents and clinical trials. We are committed to working in partnership with the scholarly community and enabling others to develop new ideas based on our data – which we make openly available for academic research purposes.
We believe that together, we can help researchers make a difference.
Visit www.digital-science.com to learn more.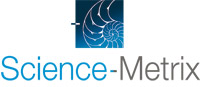 Science-Metrix
Science-Metrix is a Montreal-based full-service evaluation firm specializing in the assessment and measurement of scholarly, research and technology activities and programmes. Founded in 2002, the firm has successfully completed some 400 projects for clients such as the European Commission, the US National Science Foundation, the Gordon and Betty Moore Foundation and all science-based departments in the Canadian government. Science-Metrix provides a vertically integrated service offering, from upstream logic model and programme accountability framework design to downstream evaluation and measurement. It is skilled in interviews, surveys, focus groups, roundtable workshops, interviews, case studies, qualitative data assessment, scientometrics with databases such as Thomson Reuters' Web of Science, and technometrics including data from PATSTAT and the USPTO.
For more information go to www.science-metrix.com
1science
1science is dedicated to helping researchers and libraries transition to a more inclusive view of the world's research system. The central offering of 1science is the 1findr database, which provides a new way of discovering and analyzing the literature published around the world in academic and scientific journals. 1findr aims to exhaustively cover the literature regardless of researchers' research field and geographic location. Compared to other curated bibliographic databases, it radically increases the coverage of humanities, social sciences and health sciences journals. It will also help redraw the global production map by progressively eliminating coverage biases that have plagued discovery of papers from and statistics on the world's South, Central and Eastern Europe, the Middle-East and Asia Pacific for more than half a century. 1science also offers 1figr reports. 1figr reports are produced by experts in bibliometrics and provide a cost-effective tool that outlines the areas of strengths in universities' scholarly output in addition to providing evidence-based subscription optimization aid to librarians. 1science's third product line consists of 1foldr research dissemination tools. 1foldr Data can be used to rapidly build up the proportion of articles from scholarly journals in institutional repositories. 1foldr Hub can rapidly index the scholarly production of universities in peer-reviewed journals and can be used to disseminate open access (OA) articles and monitor how well OA mandates are progressing.
For more information go to www.1science.com